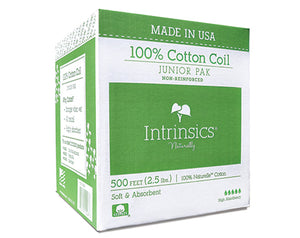 Kriphora
Junior Pak
Regular price
$0.00
$0.00
Unit price
per
100% pure cotton, 500-ft.
Intrinsics 500 ft. JUNIOR PAK Cotton Coil is soft yet strong. The premium cotton absorbs liquids from perms and hair color, protecting your client from stains and discomfort. It is also perfect for nail services offering high quality pure cotton without filler or irritating lint.
Cotton is Intrinsics' specialty with over 100 years of experience in purifying the finest, highest quality cotton found in the industry. All our cotton is produced without the use of any chlorine making it a Totally Chlorine-Free (TCF) product which not only creates the safest cotton without the risk of dioxins but is much better for our environment. Cotton is the most natural and eco-friendly fiber to use. As a natural fiber, cotton is biodegradable and compostable, unlike oil-based synthetic fibers such as polyester and others that do not exist in nature. For your clients, don't settle for anything but the best, Intrinsics Cotton!
Benefits:
100% pure, medical-grade cotton
Soft yet strong
Absorbs liquids from perms and hair color, protecting your client from stains and discomfort
Non-reinforced coil for nail services or general spa use
Naturally biodegradable and  compostable
Hypoallergenic
Made in the U.S.A
Who Are We ?
Kriphora is a premier line of professional-grade spa and salon equipment. We are a leading American manufacturer of salon furnishings and aesthetic systems headquartered in Southern California. Our extensive offering encompasses a full range of spa electronic appliances, shampoo systems, styling chairs, hair dryers and color processors and more.

Designed to last, Kriphora products deliver outstanding quality, durability and reliability and are backed by industry-leading warranties and exceptional service

Kriphora products can be found in salons, spas and styling schools across the United States. The Paragon line is currently offered through a national network of authorized dealers/distributors.

We work exclusively with professional distributors that share our American principles and work ethics. Our nationwide network of distributors and salon consultants are experienced, knowledgeable professionals that will guide you through the selection and purchasing process. To find a distributor near you, please click here.

Growth and Sustainability

While constantly striving to improve our products and service, we also keep a vigilant eye on the environment. As an eco-conscious manufacturer, recycling and minimizing waste is an integral part of our manufacturing process. We have implemented a recycling program for aluminum, steel, plastic, and paper products at our factory and we are constantly seeking ways to produce goods with minimal impact to our eco-system.


---
Share this Product
---