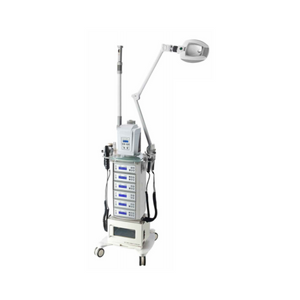 Kriphora
SF-3021
Regular price
$3,199.00
$0.00
Unit price
per
Optional Functions
Facial Steamer
Magnifying Lamp
Hot Towel Cabinet
Skin Scrubber
Ultrasonic
Galvanic
High - Frequency
Rotary Brush
Vacuum & Spray
Magic Glove & BIO Skin Smoother
Cold & Hot Hammer
Diamond Dermabrasion
Latest innovation from B&S Enterprises
SF-3021 Detachable Multi Function Machine:
This unique machine is available with the most needed 3 functions (Facial Steamer, Magnifying Lamp, and a Hot Towel Cabinet) already built into the tower. Additional components can be purchased individually, to help you customize your own multi function machine, according to the functions which are most important to you. Why pay for functions you do not need? If servicing is needed, remove only that component while being able to use the remaining functions. 
SF-3021 is customizable from 3 to 12 functions of your choice.
SF-3021-3 Base Tower comes with 3 functions: Facial Steamer, Magnifying Lamp, and a Hot Towel Cabinet
The Base Tower can accommodate six more functions of your choice, a max of 9 at a time. The 10th, 11th, and 12th functions can be alternated as needed by simply unscrewing one function and replacing it with another. All functions can also operate independently outside of the tower if desired. No need to alternate.
Individual functions can be purchased separately as priced.
Who Are We ?
Kriphora is a premier line of professional-grade spa and salon equipment. We are a leading American manufacturer of salon furnishings and aesthetic systems headquartered in Southern California. Our extensive offering encompasses a full range of spa electronic appliances, shampoo systems, styling chairs, hair dryers and color processors and more.

Designed to last, Kriphora products deliver outstanding quality, durability and reliability and are backed by industry-leading warranties and exceptional service

Kriphora products can be found in salons, spas and styling schools across the United States. The Paragon line is currently offered through a national network of authorized dealers/distributors.

We work exclusively with professional distributors that share our American principles and work ethics. Our nationwide network of distributors and salon consultants are experienced, knowledgeable professionals that will guide you through the selection and purchasing process. To find a distributor near you, please click here.

Growth and Sustainability

While constantly striving to improve our products and service, we also keep a vigilant eye on the environment. As an eco-conscious manufacturer, recycling and minimizing waste is an integral part of our manufacturing process. We have implemented a recycling program for aluminum, steel, plastic, and paper products at our factory and we are constantly seeking ways to produce goods with minimal impact to our eco-system.


---
Share this Product
---